As a truly global and ultra-high bandwidth network, our IP Transit service lets you expand your reach through our high-speed network, with low latency & minimal hops between routes to reach the final destination.
IPTP Networks offers excellent global and regional Internet connectivity for Internet Service Providers (ISP) Telecommunications Operators and Data Centers, Applied Service Providers (ASP), and content providers via our private backbone (AS 41095, AS 263681, AS 51601, AS 140951, AS 135993).
Our top 70 worldwide (according to CAIDA) IP network spans 233 POPs spread among the world's top data centres in Europe, Asia, North America, Latin America, Africa, and the Middle East.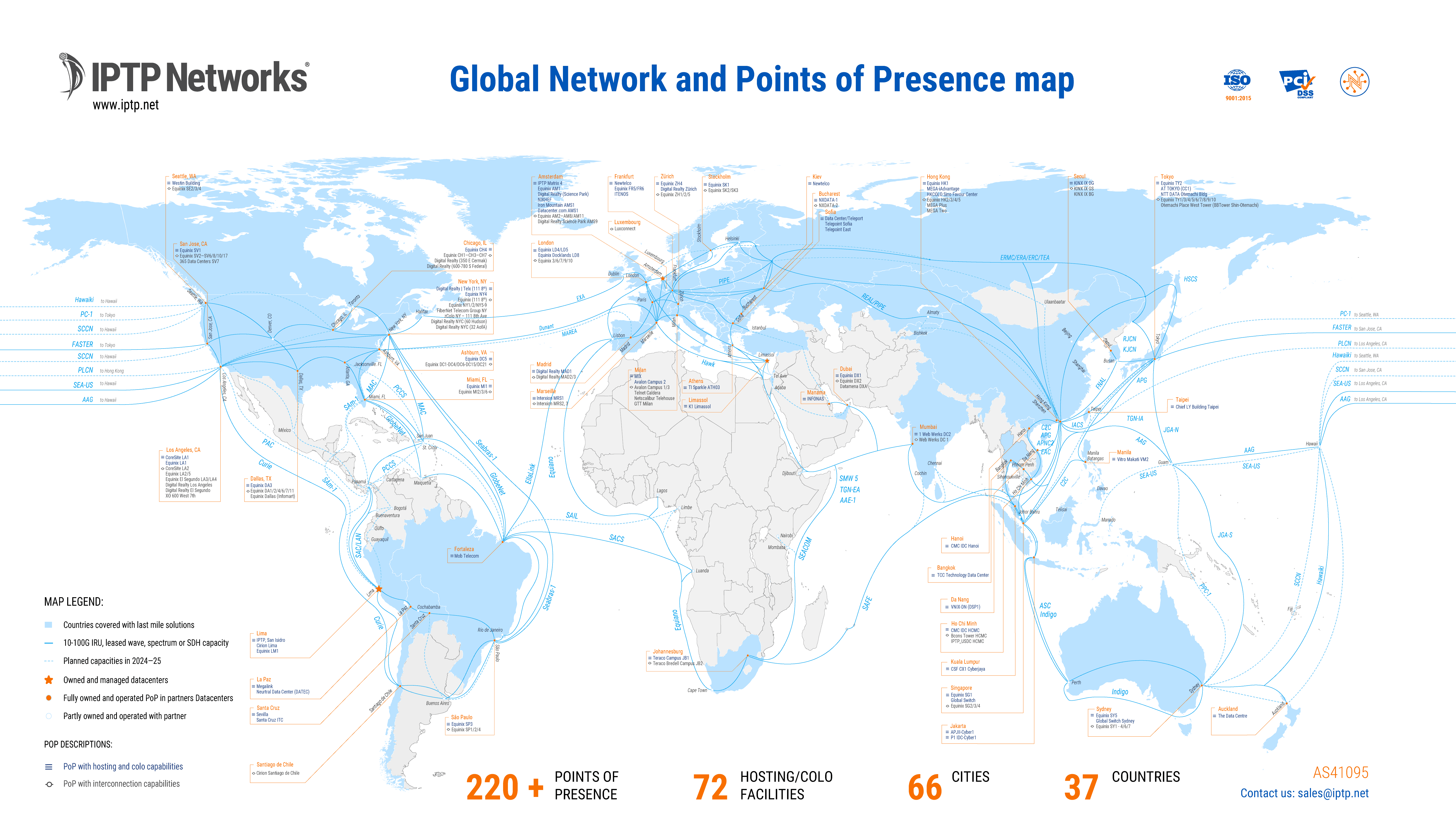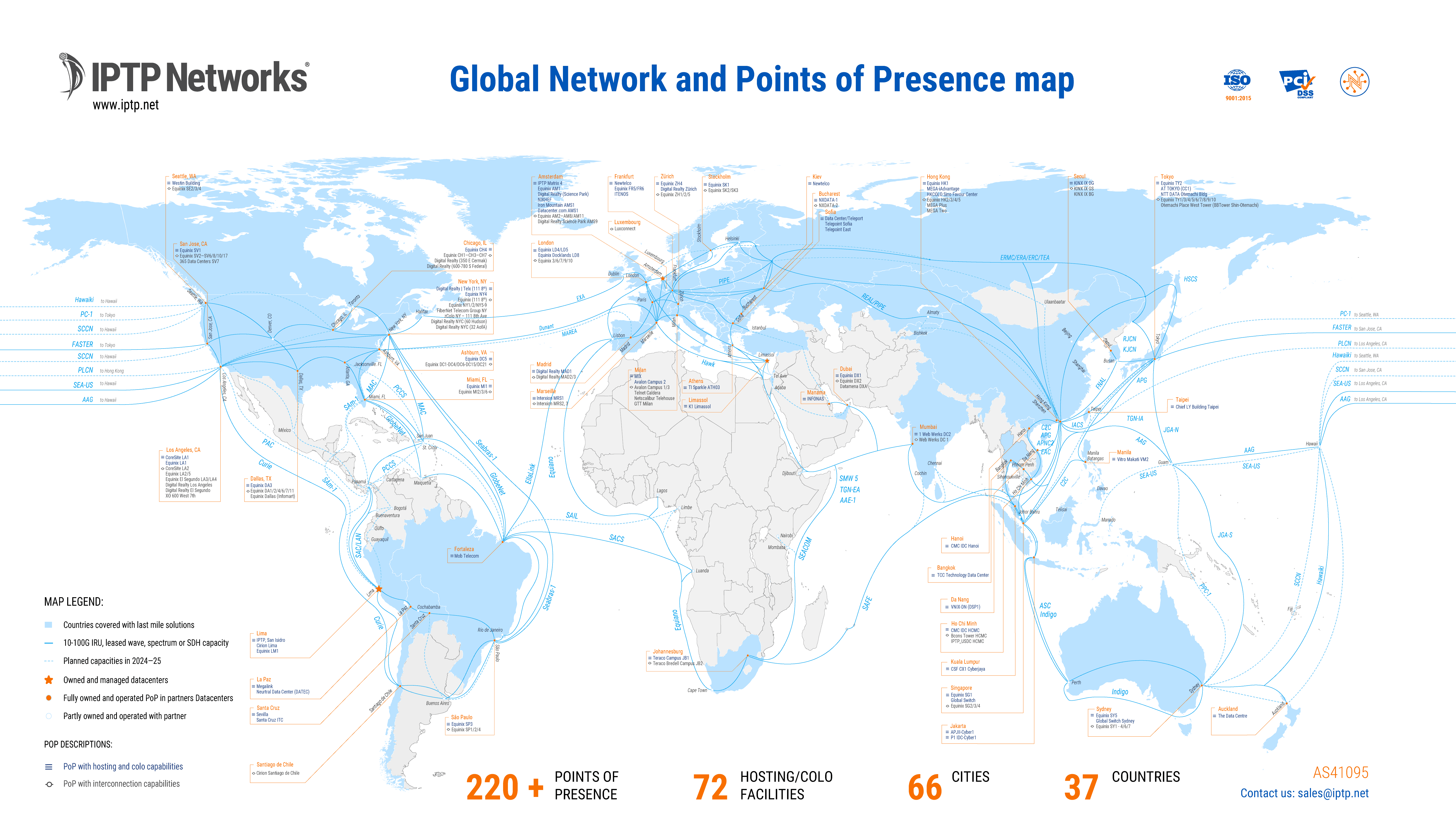 Our guaranteed IP transit services are supported by the use of multiple redundant submarine/terrestrial cables. See our cable map to discover how our diverse low-latency routes can connect you to the world.
These highly resilient cables allow us to provide "one-hop" direct IP connectivity to 6 continents, including the most desirable markets like China, Japan, Korea, Taiwan, Australia, the Netherlands, Germany, the UK, Johannesburg, the US, Brazil, and many more. Refer to our Best Path tool to find out the latency between our 233 points of presence (POPs).
We have established over 1500 BGP sessions and are exchanging traffic with over 1000 Tier-2 and Tier-1 ISPs that actually provide over 400 000 prefixes, and effectively over 80% of traffic is going via peering links. Detailed information can be obtained through our Looking Glass tool and from PeeringDB.
BENEFITS OF IPTP NETWORKS IP TRANSIT
Customers using IP Transit will receive a full BGP table that includes the prefixes of our customers, prefixes advertised by our ISP peers, and prefixes received by our upstream provider – Lumen (ex-Level 3). The partnership with Lumen helps us achieve maximum connectivity through both IP Transit and directly peering partners, which shorten BPG paths to other autonomous systems. Our rich BGP community set also helps to filter imported prefixes and manage prefixes propagation, which decreases latency and boosts speed.
IPTP Networks's total network capacity is over 35+ Tbps with our backbone directly connected to 52 major IXes and our own IXes (JumboIX Peru & JumboIX Cyprus) over the shortest possible route. Our global network is built on high-quality routing infrastructure to reduce lag and jitter. Certified NOC/NCC works 24/7 to upgrade and evaluate performance to remove bottlenecks and make sure there is enough capacity to manage unexpected demand.
IPTP Networks offers the highest SLAs, optimal performance, and reliable Internet access for the best end-user experience via several peering arrangements with key peering partners, such as China Mobile, Korea Telecom, Singapore Telecommunication, GTT Communications, KDDI CORPORATION, and many more.
Easily scale and meet your performance needs with flexible burstable service. Our diverse bandwidth speeds are available in various ports: 1Gbps/10Gbps/25Gbps/40Gbps/100Gbps
Low latency.
Moderate cost.
Greater reliability.
Greater routing manageability.
Better performance for users.
There are no third parties involved.
Route management.
Self-manageability with a rich BGP community set.
Free-of-charge basic volumetric DDoS protection.
Guaranteed QoS.
Diverse and backup routes from all POPs for high availability.

REMOTE IX TRANSIT
Remote IX Transit service could be either used in combination with IP Transit or IX transit service in a way of obtaining remote regional specific routes or being used separately. In similarity with IX Transit service it provides same number of prefixes (approximately 400 000) and same way could be fine-tuned with reach of BGP community set. In that case BGP session is established with remote router over L2 MPLS link in order to obtain desired regional specific routes and perform deeper traffic engineering on global scale.
*
— Special conditions may apply.
Request a quote for IP transit