Distributed Denial of Service (DDoS) attack is one of the most critical threats for any organization that conducts business online.
Cyber attacks are becoming increasingly problematic for organizations that conduct business online. The most critical concern today are Distributed Denial of Service (DDoS) attacks – a distributed type of attack that allows bot-nets to cause an overload of traffic leading to a denial of service and, as a result, loss of valuable customers. Every day these attacks are becoming more sophisticated, making your corporate data vulnerable and security demands – increasingly challenging.
About IPTP DMMS against DDoS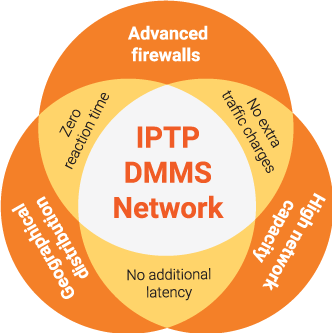 At IPTP Networks we developed a unique way of protecting your business and customer base, designed specifically to provide unparalleled protection against DDoS and ensure continuous operation of your network. A high performance network infrastructure owned by IPTP allows the handling of immense amounts of traffic and quick filtering out of attacks, providing a powerful rebuff and subsequent mitigation of a potential threat. As a result, we leave your network with strictly legitimate traffic and you – in complete control over your business.
The effectiveness of Distributed Mitigation Managed Service against DDoS designed and implemented by IPTP Networks is explained by a number of advantages:
DISTRIBUTED PROTECTION
Unlike other companies offering DDoS protection, we operate on our own global network that allows us to protect against DDoS on our perimeter, limiting the attacker's capability to pool attack traffic into a single target and reducing the mass of an attack by an order of magnitude. We operate ultra-fast Trans-Atlantic, Trans-Pacific and Trans-Eurasian fiber channels and provide our customers with unparalleled distributed protection.
TRANSPARENT MITIGATION
The distributed design of IPTP's DDoS mitigation defense topology allows us to clean traffic directly at the border of our network (with speed less than 1 ms of delay), rather than shifting traffic to a clearing center and back, thus eliminating any latency involved in the clearing process and providing a truly transparent protection.
REDUNDANCY
Our global network allows for distribution of traffic among separate, dedicated equipment, preventing the combined volume of c from ever targeting a single network node. This makes IPTP's infrastructure completely redundant and allows us to guarantee that all your resources remain accessible to your clients and secure at all times.
GOOD VALUE
Many botnets allow competitors to launch an attack with almost no cost. However, the initial costs of equipment and the knowledge required to confront a DDoS attack are significantly higher. The simplicity of running such an attack in contrast to the complexity of protecting against it makes it highly challenging to maintain an in-house security solution. By relying on our DMMS against DDoS, your organization receives a complete security solution in the most cost-effective way.
UNPARALLELED PERFOMANCE
Our qualified specialists operate on high-end network equipment from Cisco, an industry leading provider, and deal with high loads of traffic on a daily basis to ensure that your enterprise receives unparalleled, sustained performance and continuous protection. Attacks are evolving every moment and our team is constantly busy improving our service by adding new resources, expanding our network and accumulating expertise.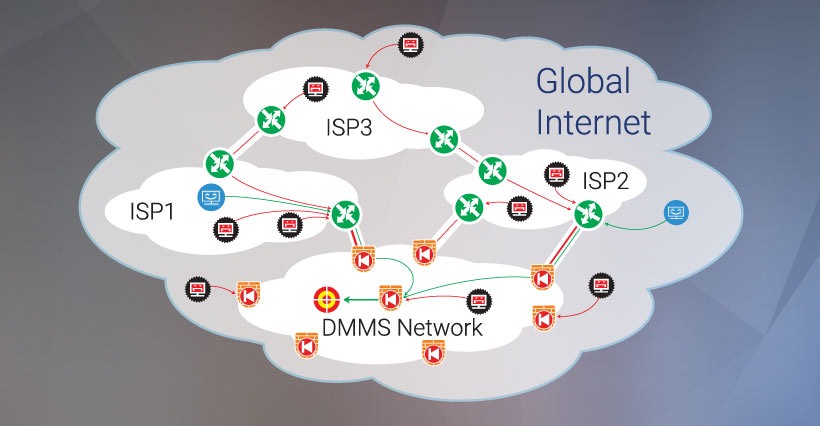 ---
BENEFITS:
Deployment on IPTP Networks' private global network
Highly customized firewalls can handle any type of protocols, starting from standard HTTP to any TCP and even proprietary UDP-based encrypted protocols used in financial sectors, making sure that each request gets serviced
Our advanced firewalls can handle gigabits of traffic and filter out any types of floods including but not limited to ICMP, UDP or SYN
All traffic goes to the closest available equipment in the network and the setup is completely redundant
Fully redundant network topology allows us to carry out transparent maintenance both on the network and at the customer side with no impact to your services
By using BGP anycast methodology, we make it impossible to target any specific device in our protected cloud
---
Request a quote for DDoS Mitigation service