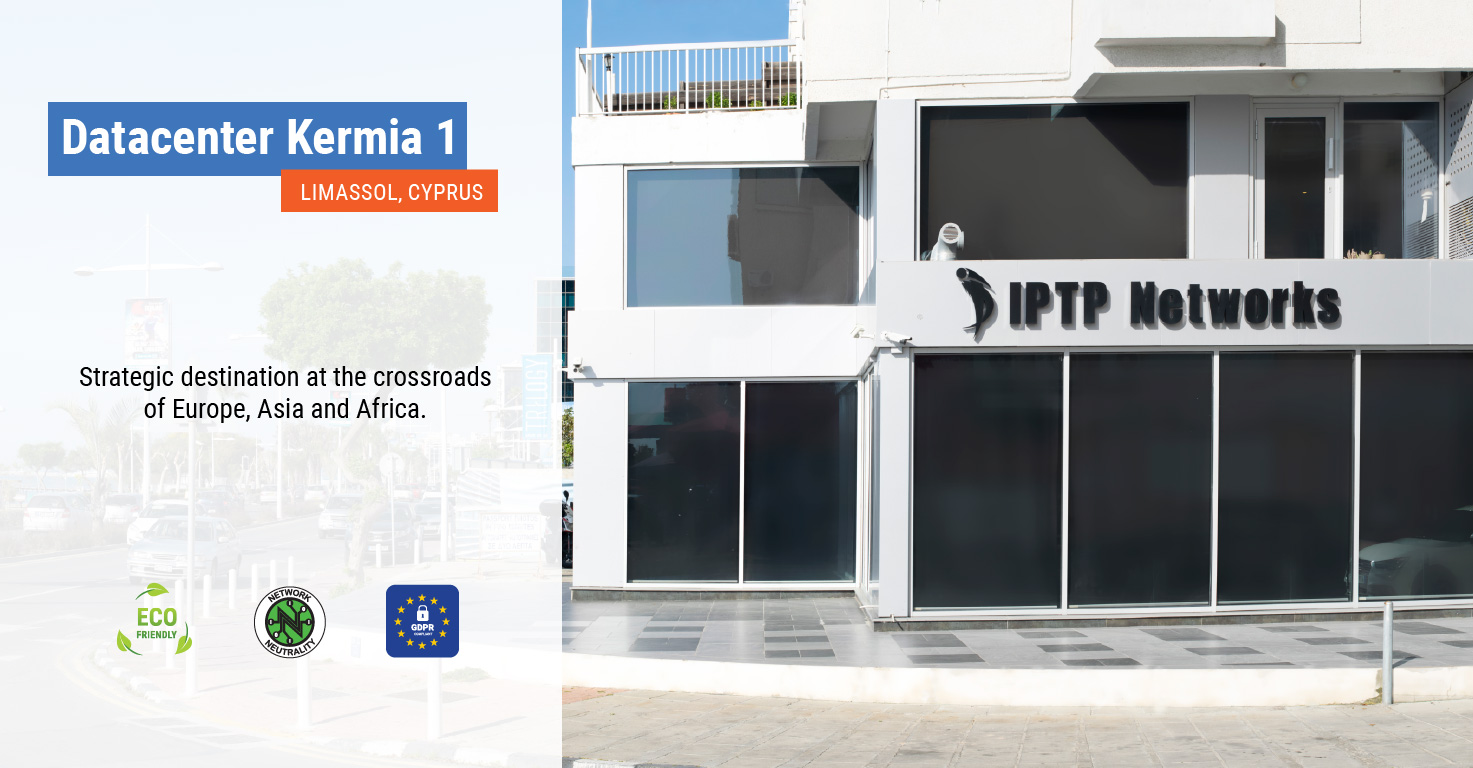 Kermia 1 is IPTP Networks' carrier-neutral facility in Cyprus – a strategic destination at the heart of the Middle East, at the crossroads of Europe, Asia and Africa. Premium-level and brand new, the K1 datacenter makes use of our established global network infrastructure and is built using innovative, industry-leading solutions and technologies, offering unparalleled scalability, reliability and security.
---
GLOBAL INFRASTRUCTURE
IPTP  Networks operates its own worldwide network infrastructure allowing us to serve as a redundant 'bridge', connecting clients around the world to key Internet exchanges and global financial centers.
ULTIMATE SECURITY
The Kermia 1 facility is enhanced by our internally developed SmartSpaces Automation solution as well as IPTP Video Surveillance system. The combination of both allows us to ensure the complete security of all your corporate data with state-of-the-art security features such as mantrap(access control vestibule) with two-step verification access control, bulletproof materials for windows and walls of the building as well as numerous internal and external security cameras..
ADVANCED EQUIPMENT
IPTP Networks implements, exclusively, the state-of-the-art equipment provided by Cisco as the backbone of our data center network infrastructure. With our in-house, Cisco-certified engineering team we guarantee the highest level of uninterrupted, uncompromising performance of all your network resources.
COMPLETE REDUNDANCY
Kermia 1 data center is equipped with an autonomous power supply and connected to redundant communication channels. Our Live Network Diagram can be viewed via: Weathermap

---
ADVANTAGES
Optimal network coverage and increased resilience is achieved by reserved channels
Global connectivity via our privately-owned global MPLS network infrastructure
Complete redundancy of all systems of data center, targeting compliance with ISO 27001, PCI DSS, ISO 9001, TIA-942, Tier 3+ industry standards
24/7 access to our qualified technical support, available in English, Russian and Chinese languages
A fully redundant supply of electricity for the facility is achieved by a 100KW power feed, backed up with 100KW GENSET
Redundant electricity supply via a private power generator
24/7 monitoring and maintenance of the facilities
Advanced access systems
Simplicity of concept, design and installation