Wish to reach out to businesses from an entirely different region without compromising your latency and bandwidth?
Worry whether country-crossing connectivity will be time-sensitive enough for your real-time business applications.
IPTP Networks brings you peace of mind with our Remote DIA service.
Remote DIA
Remote Direct Internet Access
What is Remote DIA?
Remote DIA (or Remote Direct Internet Access) is a Direct Internet Access service within remote sites via protected L2 EoMPLS backbones, providing ultimate flexibility that will help to reach out to businesses from an entirely different region without compromising latency and bandwidth.
Remote DIA allows the remote sites to transfer certain Internet traffic or public cloud traffic directly out of the local Internet transport, instead of having to tunnel it back to a central site or data centre.
Remote DIA is the ideal solution for customers who want to use another country's IP address for optimal connection to that country's domestic Internet.
Example
One of our customers – Cataleya – is in Hong Kong, but wishes to use the Internet in Korea. IPTP Remote DIA service is what Cataleya was looking for!
To start, our client must have a connection with our POP. In this case, Cataleya must first connect their last mile to IPTP POP in Hong Kong. We then provide Cataleya with our outstanding L2 EoMPLS service from our POP in Hong Kong to our POP in Korea. Finally, from that IPTP Korea POP, we supply our DIA service for Cataleya, allowing them to use Korea's IP address to access Korea's domestic Internet while still oceans away.
Benefits of IPTP Networks Remote DIA service
Traditionally, traffic must traverse the entire network to reach the data centre to gain Internet access, this leads to higher application latency and excessive WAN bandwidth usage. Remote DIA solution will save WAN bandwidth and reduce latency – meaning better content/app delivery and optimal user experience.
Remote DIA is the answer to your need to keep things simple, fast, and easy. Our on-demand Remote DIA solution can be set up on the fly, ensuring short time-to-market and speedy deployment. Moreover, one of the biggest perks of the service is Remote DIA is entirely hassle-free. No more headaches over complex setups or specific prerequisites – we will take care of everything!
Direct Internet Access is also the more cost-effective connectivity option compared with IP Transit service so our Remote DIA is the ideal choice for dependable global reach with minimal financial efforts.
Accelerate your business reach with the stress-free, bandwidth-saving, and best possible latency connectivity at the best value price with IPTP Networks Remote DIA service.
Service location
IPTP Networks provides Remote DIA service in all countries selected in blue on the global map.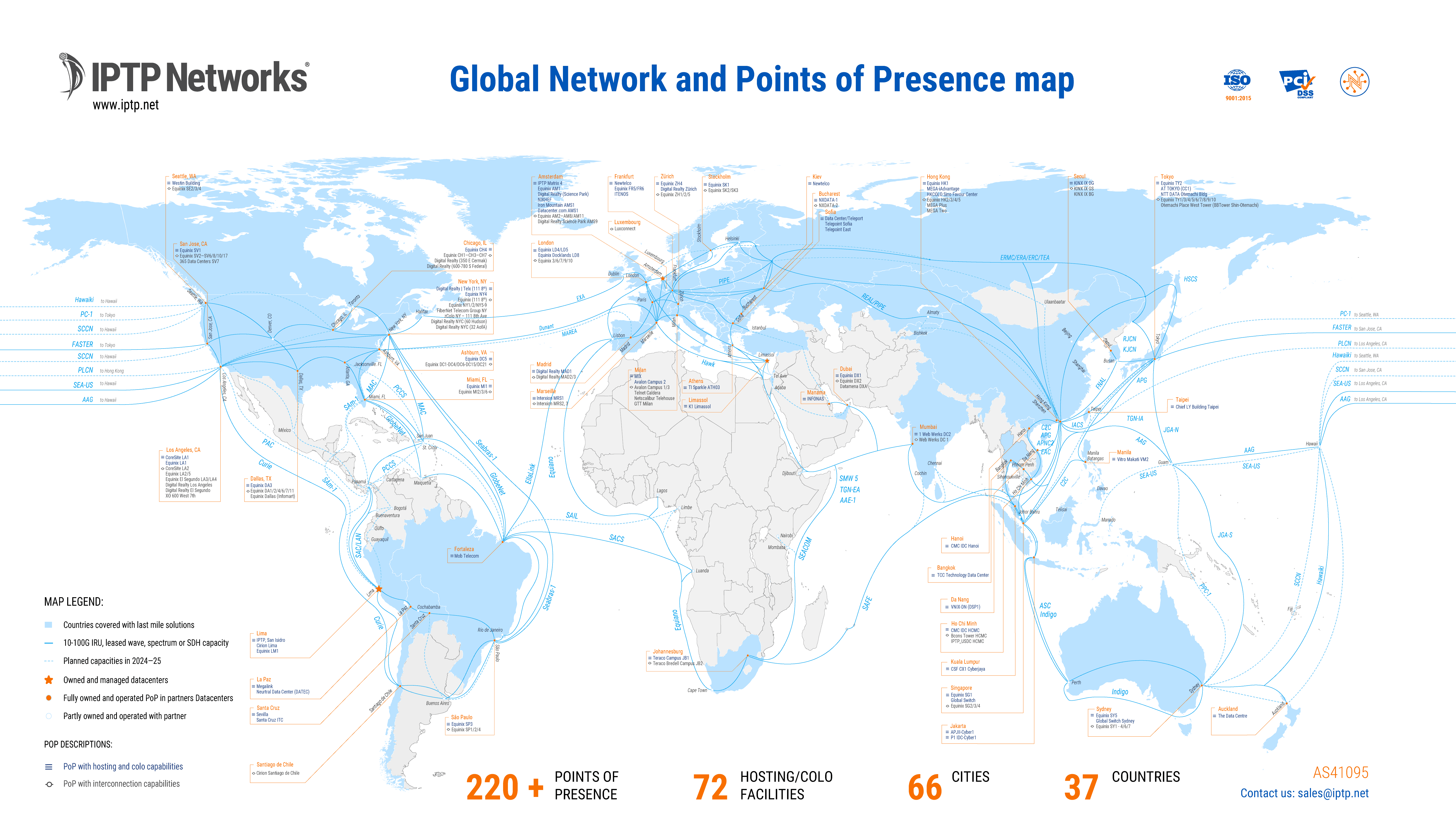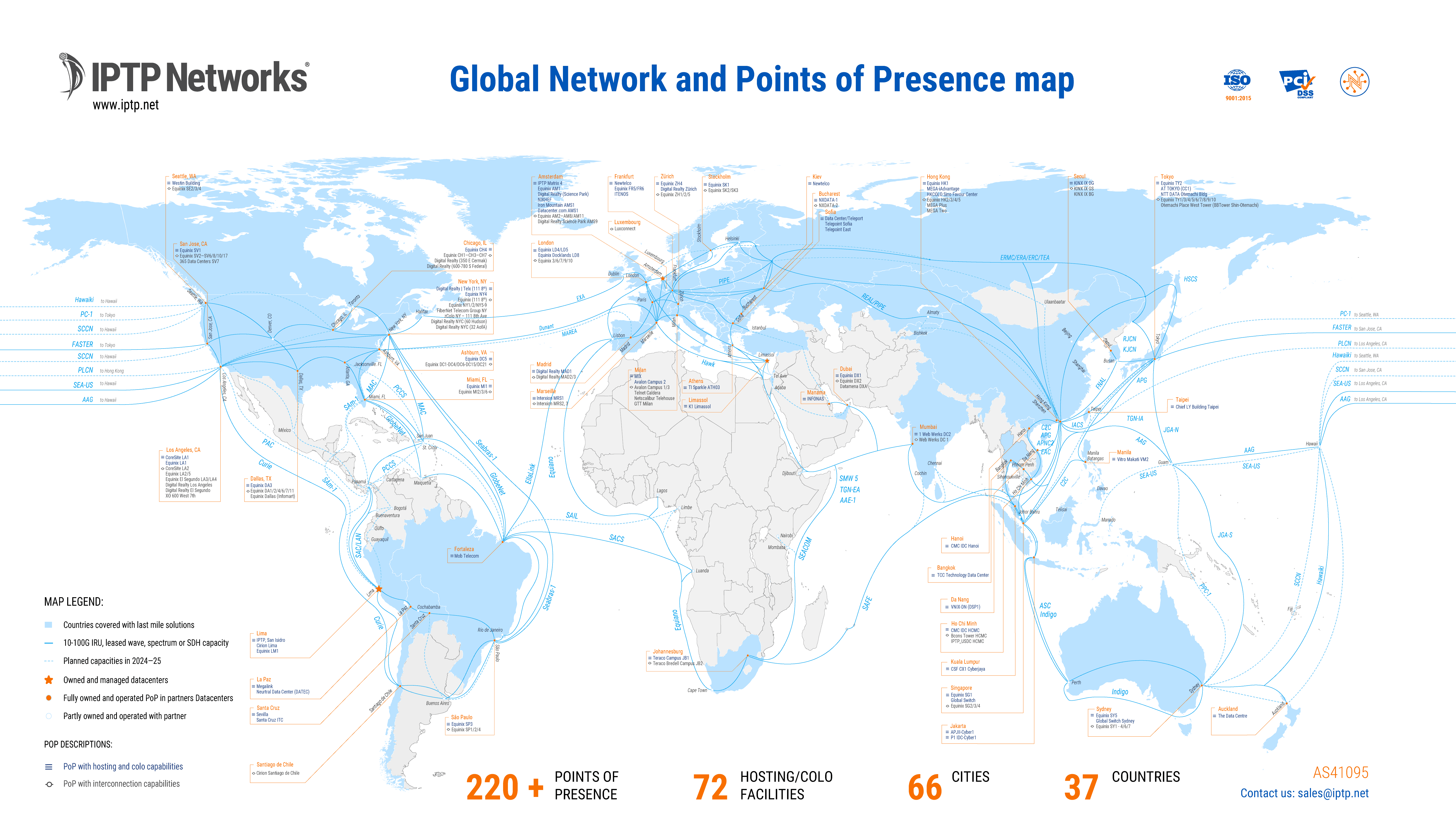 * — Special conditions may apply.
Looking for national and international connectivity with the best possible performance for the most reasonable price?
IPTP Networks also offers DIA service – reliable and fast Internet connectivity with a static IP.
Need more information about our network? Check out our Looking Glass tool to access our routing information.
Remote Direct Internet Access