A 1-stop integration solution, designed to provide centralized control and automation of all motorized or manageable appliances on your premises, office or motor vessel.
---

IPTP Networks' in-house development – Controller of Automatically-Driven Appliances or CADA provides a single interface for control of all electronics in your home, office or vessel, eliminating the need for multiple switches, control panels and remote controls. IPTP SmartSpaces solution is compatible with LinuxMCE, a free modular software platform that seamlessly integrates media and entertainment, home automation and security, telecommunications and computing. The interface can be accessed from any type of hardware: PC, smartphone, Cisco Phone, TV, tablet or other device of your choice, giving you complete remote control over the solution from every corner of your premises and the world.
---
IPTP CADA
(Controller of Automatically-Driven Appliances)
CADA is IPTP's in-house developed software and one of the main components of the IPTP SmartSpaces Automation Solution. Pooling data from all Sensors/Detectors in your premises, IPTP CADA processes it and responds accordingly, attending to your day-to-day tasks through pre-set automatic settings. Based on equipment of the type "LinCon-8000" by ICP DAS, CADA is an independent component of the solution with an automated operating mode for the purposes of failure-resistance, providing a basic level of automatisation in extreme situations.
Functions:
LIGHTING
All the lighting on the premises is controlled by and accessed from any available connected device. Depending on your preferences, the lighting can be either pre-regulated or simply controlled with an "on/off" switch. Every switch on the premises can control any lamp or a group of lamps with any required logic; i.e. the switch automatically sends a signal to the system, which, in turn, carries out the required task. This way, switching certain lights on and off can be combined with responses from other appliances.
ADAPTATION
To maximize your comfort even further, the solution is designed to recognise your everyday habits and adapt to them automatically. It uses smoke detectors, infrared/ultrasound, humidity/light intensity, inside/outside temperature, pool/hot water tank temperature, opening and closing of gates/doors/windows, weather (wind intensity/rain) sensors, sound sensors that react to commands and many other features that make your everyday life more comfortable.
TELEPHONE
A phone subsystem can be organized as an independent system, or be an extension of an existing office system, even if the office is located abroad. If necessary, the phone subsystem can be organized in a way that certain phone numbers from another country can be connected to the premises telephone system. It is also possible to provide a free-of-charge phone connection with another location which has the same equipment, i.e. with an office or another home. If stationary phones have a sensor panel, they can be used to control any element of the solution. Wireless WiFi phones can also be connected.
SECURITY
With a wide variety of sensors, we are able to provide an exceptional system for safety and fire prevention that can be integrated with an automatic fire extinguishing system and placed under maintenance of a security company.
REMOTE SURVEILLANCE
The remote surveillance subsystem allows integration with a wide range of surveillance facility systems for internal and external observation. This subsystem also carries out the function of an intercom at every entrance of the premises, allowing for communication via any camera, similar to a video phone. The remote surveillance subsystem can also operate and be controlled from any corner of the world via the Secure Communications Channel.
COMMUNICATION LINE
A communication network can be set up on the premises, connecting the Secure Communications Channel to other premises, offices or vessels, providing a safe connection with a remote system through the Internet. This gives you transparent access to another network, which would be useful for creating, for example, identical network surroundings with an office.
INTERACTIVE TELEVISION
The television subsystem allows ordinary television, as well as a selection of additional elements that transform it into a multi-media system. Among these elements are: access to a library of movies, music, karaoke, video clips, an option of recording TV programmes for later viewing, importing blue-rays into the library and much more. You have complete control of the premises directly from the TV via an on-screen menu. Video-phone mode and volume control from every corner of the premises are also available.
ELECTRICALLY -DRIVEN APPLIANCES
All the electrically-driven appliances and other power generators (automated opening of gates, pump motors, electrical door locks, electrically-controlled taps, heating/air conditioning, pool/sprinkler control systems, etc.) can be controlled from any connected device.
---
SmartSpaces Automation Solution integrates various appliances in your home, office or vessel into a seamless digital environment via a unified control system.
---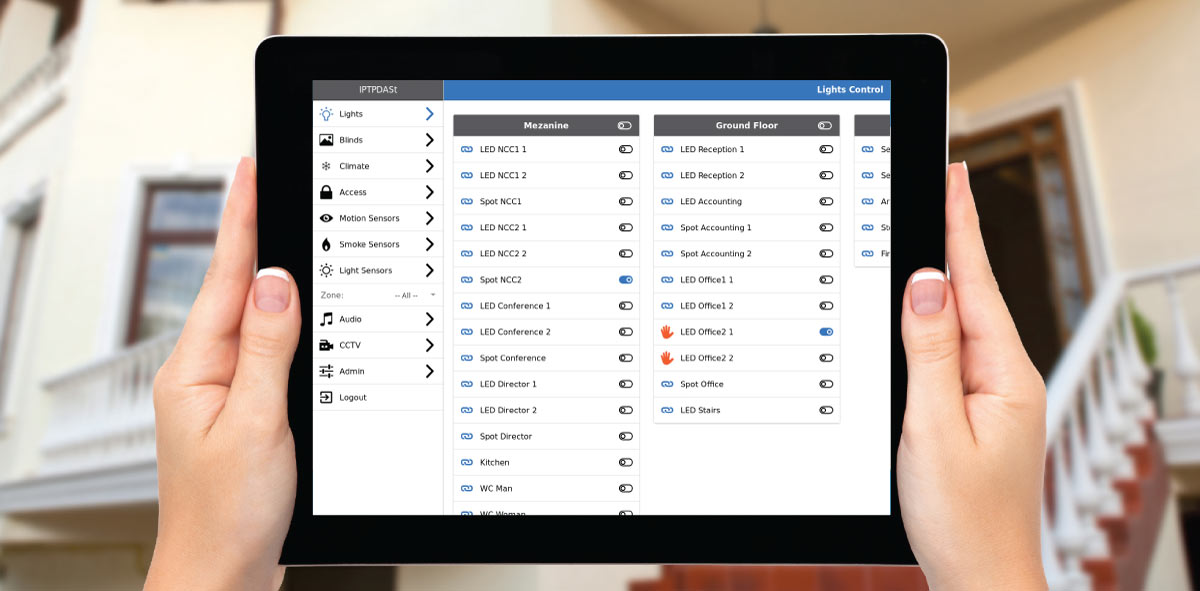 FOR OFFICE
SmartSpaces is a flexible integration solution that turns the office space into an automated, multifunctional ecosystem with an unified control panel that does not require a single switch. The solution makes use of centralized technology for control over lighting, air-conditioners and electrical appliances; it also integrates with other systems, such as security, video surveillance and telephony, enhancing the office space with sustainable performance, operational efficiency and improved convenience.
---
How does it work?
The entire office space is covered by multiple light, movement and temperature sensors as well as Wi-Fi. Depending on the time of day, weather conditions and settings preset by employees, lighting is adjusted automatically via dimmers and electric shutters that move either up or down according to time of day and amount of sunlight. The system also constantly updates information on external factors in order to maintain temperature in the office at an optimal level so employees never feel too hot or too cold.
Access control is enhanced by two-step verification: fingerprint recognition that is programmed to be used by every employee and the code to be entered on a panel. Fingerprint authentication is also required to be able to leave the office; if unauthorised entry occurs, the trespasser will not be able to exit.
The system is also programmed to set and disarm alarms and control other parts of the system from anywhere in the world, so even during holidays a designated employee can adjust the system settings remotely. Bulletproof materials can be used for windows, doors and walls of the building, keeping all the assets under lock and key. When the office has visitors, and the doorbell rings, the alert can be adjusted to be sent to any or all the devices in the office, be that a TV, a stationary phone or a tablet. An employee responsible for the system can use any of the aforementioned devices to open doors and monitor visitors via multiple cameras installed inside and outside of the office.
---
FOR HOME
The Smart Spaces solution allows for sustainable control over the premises, automating the processes of all electrical appliances, utilising them in the most efficient way. 
---
How does it work?
When the occupant approaches his premises, smart home already detects his arrival and opens the gate or door automatically. A phone or a tablet can also be used to control doors or gates.
A weather station is set up on the roof in order to measure humidity, temperature, wind speed, cloud density and other external factors and set to recognise, memorise and apply patterns accordingly. All in-house systems inc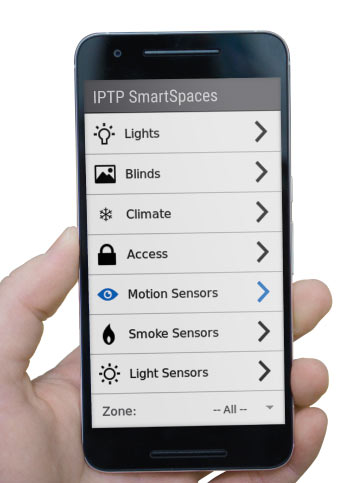 luding irrigation and lighting of surrounding areas are adjusted to work according to these patterns. For example, if the system considers clouds to be too dense and the humidity level too high, the irrigation system would not switch on that day. If on the contrary it is too sunny of a day, the water tank will not be heated by the system, as the solar panels will heat it instead throughout the day. So that water is preheated in advance, the owner may also adjust the settings as to be able to shower as soon as he wakes up.
The solution also covers security of the house: all windows and doors have sensors detecting movement and breakage. The 'Laser curtain' feature is also applied for security purposes; if anyone is detected entering or exiting a doorway in the absence of the occupant, an alarm will go off and all doors will be locked. If unauthorised entry occurs, the system will take pictures of the intruder and call the owner and the police.
---
FOR VESSEL
The SmartSpaces solution can be delivered to vessels, providing automated entertainment, communication and information collection via a single system, no matter how far from shore you are.
---
How does it work?
The yacht is equipped with two redundant data connectivity links for voice use, Internet and remote control. In order to provide reliable data connectivity on-board, a pair of tracking satellite transmit/receive systems were installed.
The owners of the yacht can stay in touch with their office and friends at no extra cost via Internet telephone; the system uses dozens of telephone lines to onshore numbers simultaneously. The owners also have the ability to make free calls from and to registered mobiles within the vessel.
Fast Internet connection enables permanent availability of any of the Internet services, at no extra cost; high speed wireless connections are available all over the vessel. The owners of the yacht can watch and record their favourite TV programs at any time, even when they missed them on air. They also have a wide choice of blue-ray and MP3 files available among thousands of titles found in the media library.
The Television Interactive Entertainment System makes possible the sending and receiving of messages among all the system's users. The flexibility of the system allows for the recognition of ranks, which helps avoid unauthorised dialogue between crew members and both owners and visitors of the yacht. At the same time, this enables all authorised users of the yacht to dispatch text messages to all cabins in case of an emergency. In this scenario the inactive television screens become active, and the viewing of the current channel or any other activity will be interrupted by the text message.
---

ADDITIONAL APPLIANCES
As a software developer, we can adapt to any demands of our clients and implement additional appliances. In other words, any device that you own can be integrated into the SmartSpaces Solution and controlled through a single interface.
---
RACK
The rack is used to hold components such as Uninterruptible power supply block, the Core, Router, LAN switch, Controller of Electrically-Driven Appliances, cable distribution panel and other additional devices.
CLIMATE/POOL/IRRIGATION CONTROL
Thermoregulators are used for climate control on the premises and automating the processes using set parameters.
LAN SWITCH
An essential part that provides an interrelation between the components through a TP cable, delivering the vital amount of ports connecting them. For a wireless connection, WiFi access points can be used.
UNINTERRUPTIBLE POWER SUPPLY BLOCK
An uninterruptible power supply block is strongly recommended for mitigating adverse effects of electro-supply failures on components. Depending on the quantity of components, more than one sustained power-supply block may be necessary.
POOL CONTROL
The solution also supports the pool control system by Jandy Aqualink. Pool temperature, cleaning, solar panels for warming up the water, etc. can be controlled with this system.
---
COMPATIBILITY WITH LinuxMCE
The main components of the solution are supported by IPTP Networks' in-house development and are compatible with the LinuxMCE project.
LinuxMCE (Linux Media Center Edition) is a free and open source software platform with a 10-foot user interface designed to allow a computer to act as a home theatre PC (HTPC) for the living-room TV, personal video recorder, and home automation system. It allows control of everything in the home, from lighting and climate to surveillance cameras and home security.
ROUTER
One of the main components of the solution, responsible for providing a gateway for the telephone subsystem, a safe Internet connection or VPN, as it supplies the solution with crucial network functionality.
THE CORE
Nucleus of the system, necessary to carry out tasks more complex than elementary automatisation. The core is software run on a highly reliable professional server. It can be configured to suit individual requirements (the amount of disks and their sizes, the amount of RAM, the number of processors and their models, the amount and types of DVB and RAID cards), all determined at the design stage. It is possible to add other components and improve system parameters at any time after implementation.
MEDIA CONTROLLER
The Media controller is used to regulate audio/video devices.
WIRELESS ORBITER
The main remote for the solution that connects you to the Media controller via a wireless network, using tablets, androids, Cisco Phones and other devices.
AUDIO PLAYER
Wireless devices can play a wide variety of music files in any room, connected to an existing Wi-Fi system or simply to powered speakers. The use of wireless networking leaves you unrestricted by cables or connectors. In addition, Audio Player includes a directory of thousands of radio stations and connects you to online music databases that analyse your musical tastes and create playlists accordingly.