IPTP Networks is an independently-owned, multi-functional, redundant broadband network
linking the North and South Americas, Europe, the Middle East, Asia and Africa and
a global Tier 2 Internet Service Provider (AS41095), System Integrator and Software Development company with over 10 years experience in delivering specialized, custom-made and truly integrated network solutions.
We provide a unique set of services backed up by management, monitoring and maintenance. Our innovative approach is based on tailor made solutions designed for corporate clients that demand high-level, non-packaged services specifically adapted to their distinct business models. IPTP services proved to be effective across a wide range of industries, including but not limited to: media, financial corporations, banks and Forex companies requiring a reliable network infrastructure, rapid scalability of projects, outstanding levels of security and the ability to withstand high network loads. Currently we serve the interests of over 3000 clients worldwide as well as a number of resellers.

---
EXTENSIVE PORTFOLIO:
Complex system integration solutions, IP Telephony, Unified Communications, Telepresence, Video Conferencing, High Availability Clusters, Security Solutions, DDoS mitigation, private Cloud and CDN solutions, ERP & CRM.
---
IP Transit available on various types of ports – 10M / 100M / 1G / 10G / 100G.
---
COLOCATION AND HOSTING AT VARIOUS LOCATIONS:
the Middle East: Nicosia, Limassol (Cyprus), Dubai, Fujairah (UAE), Istanbul (Turkey)
Europe: Sofia (Bulgaria), Helsinki (Finland), Paris, Marseille (France), Frankfurt (Germany), Milan (Italy), Amsterdam (the Netherlands), Madrid (Spain), Stockholm (Sweden), ZÜrich (Switzerland), Kiev (Ukraine), London, Slough (United Kingdom)
Russia: Moscow, Saint Petersburg, Novosibirsk, Vladivostok
the United States of America: Ashburn (VA), Atlanta (GA), Dallas (TX), Denver (CO), Chicago (IL), Honolulu(HI), Miami (FL), New York (NY), Los Angeles (CA), Palo Alto* (CA), San José (CA), Seattle (WA), Washington (DC)
Americas: Toronto (Canada), São Paulo, Fortaleza* (Brazil), Lima (Peru), Bogotá* (Colombia), Quito, Guayaquil* (Ecuador), Santiago de Chile* (Chile), Buenos Aires* (Argentina), La Paz* (Bolivia), Panama* (Panamá)
Asia: Beijing, Shanghai (China), Hong Kong, Macau*, Taipei (Taiwan), Singapore, Seoul (South Korea), Tokyo (Japan), Bombay, Chennai*(India), Jakarta (Indonesia), Karachi* (Pakistan), Kuala Lumpur*(Malaysia), Bangkok* (Thailand), Hồ Chí Minh, Hà Nội (Vietnam), Phnom Penh (Cambodia)
Africa: Johannesburg (South Africa), Luanda* (Angola), Mombasa* (Kenya), Lagos* (Nigeria), Dar Es Salaam* (Tanzania)
Oceania: Sydney, Alexandria (Australia), Auckland (New Zealand), Suva*(Fiji), Guam*.
* — location will be available in the near future.
---
Ethernet over MPLS and other transport solutions over MPLS to clients in the wholesale carrier, media and system integration industries.
---
IX Transit product enables our clients to reach all major internet exchanges via a single port.
GLOBAL PRESENCE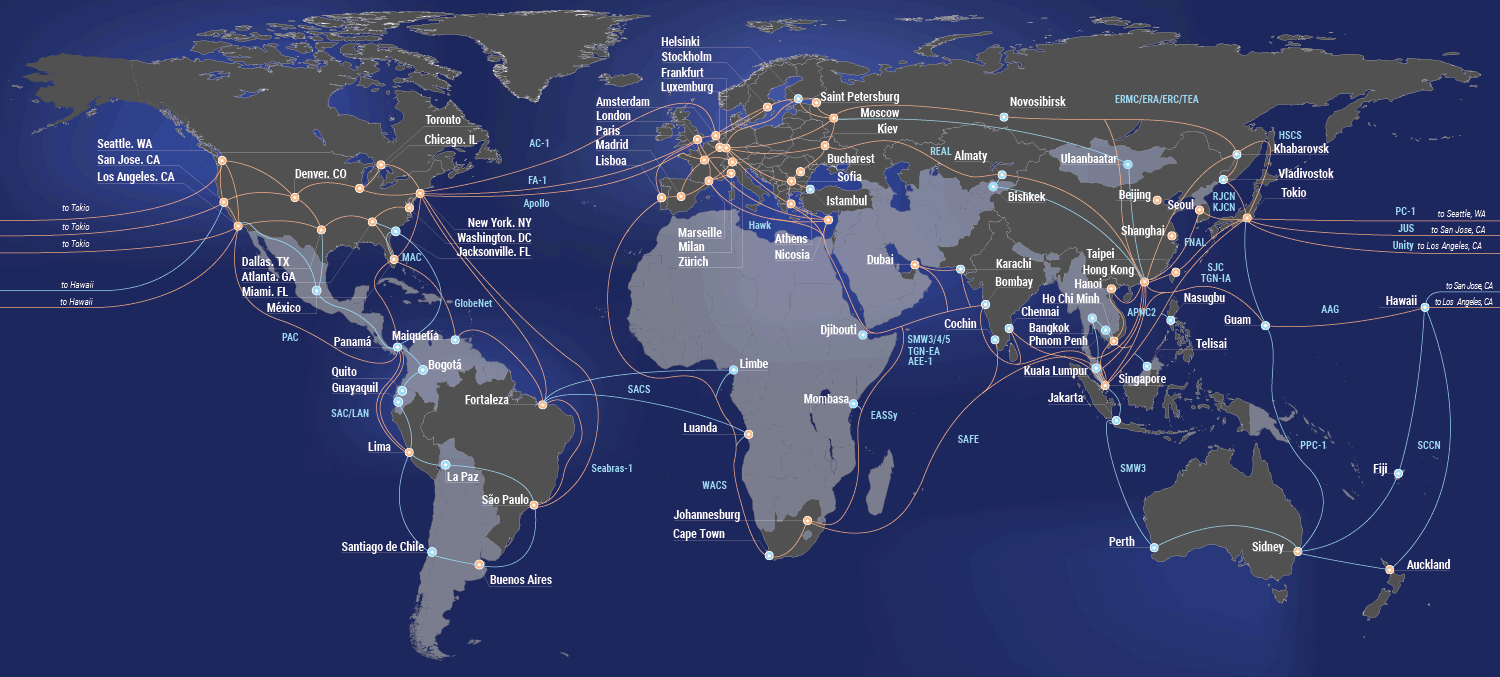 Company operates ultra-fast Trans-Atlantic, Trans-Pacific and Trans-Eurasian fiber-channels connecting our clients to key internet exchanges and global financial centers and providing outstanding connectivity across USA, Europe, Russia, Asia, Africa and Latin America. We are pleased to offer our network infrastructure, the platform of datacenters and the power of our server equipment around the world for your projects.
---
IPTP is present in all of the major internet exchanges, averaging similar presence figures. Each of our datacenters is docked to CenturyLink (ex-Level(3)) – an operator of the premium level and connected to all major international Internet Exchange points: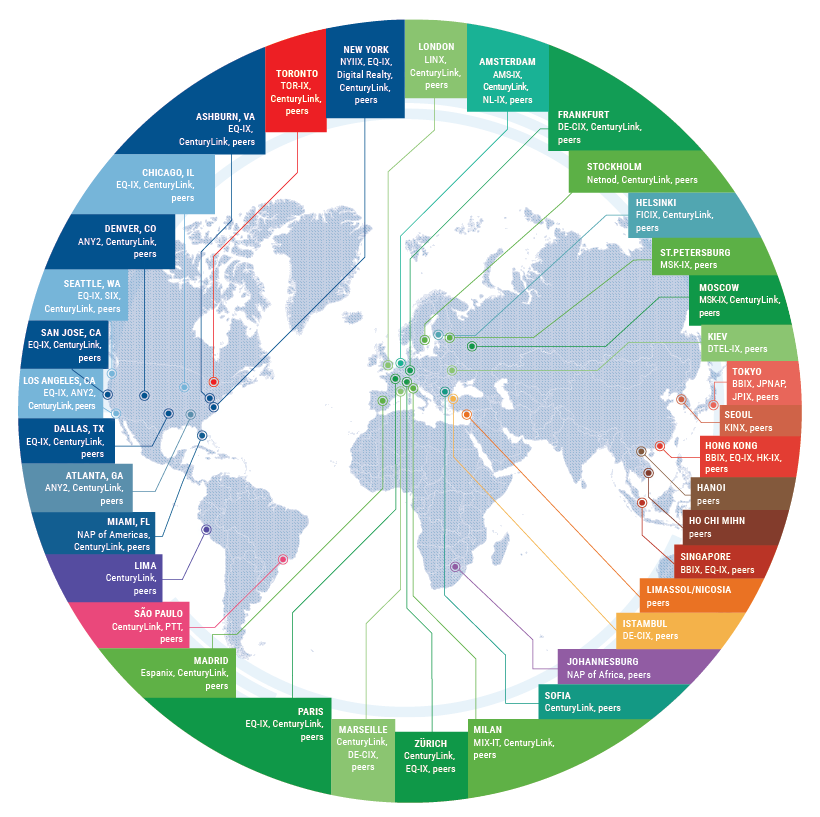 AMS-IX, BBIX, CoreSite, DECIX, LINX, MSK-IX, Equinix, NL-IX, Telx, HK-IX, Telx and more.
---
At the moment, network stability is provided by redundant EoMPLS network with a total capacity of more than 35Tbps and 1Tbps uplink capacity.
FLEXIBLE APPROACH
IPTP Networks operates on 24/7/365 basis, providing a Service Level Agreement with up to 99.99% availability for N+1 redundant solutions. Our flexible approach is based on unique, custom made solutions designed to provide you with high-level, non-packaged services specifically adapted to your individual business model.
---
Our Technical Support is available in Russian, English and Chinese languages.
---
We serve as a 1-Stop-IT-Shop for all IT-related issues, which allows customer to benefit from having a single contact that helps cover their entire IT infrastructure. We design, deliver, implement and integrate all the aspects of their projects, provide consulting on all solutions and handle all the sub-contractors which allows our customers to receive an integral, finalized product, from one company.

Our team of technicians and engineers is highly experienced in networking and communications technologies and keeps up to date the latest developments by continually engaging in strategic
partnerships
and collaboration with leading companies in the ICT sector: CenturyLink, Verizon Business, Cisco, Supermicro, RSA/EMC, Microsoft and others that recognise our unique position to provide its clientele with an unparalleled level of support.
CONTACT US
Prospective investors are welcome to send us an email via: ten.ptpi@ecnanif for NDA, following which an information pack for all current investment projects will be delivered.
---